InfraFloor® Mat Electric Floor Heating System
Isn't it wonderful to walk on warm floor like on the beach? Barefoot. Warm and cozy. Now you can!

InfraFloor® Mats provide the easiest electric floor heating installation by pre-spacing the floor heating cable on a fiberglass mesh that is quickly rolled out across the floor and has pre-attached self-adhesive tape. Lead wires attached from one end only further simplify the radiant floor heating installation.
Designed for all floor coverings, including ceramic or porcelain tiles, stone tiles, carpet or vinyl tiles, laminate and glued wood when imbedded in thin-set mortar or self-leveling cement, InfraFloor® Mat is also made with EMF (electro-magnetic field) cancelling heating cable.
Let InfraFloor® electric floor heating systems provide you with comfort all year long.

Shop now online or let our friendly customer service assist you with your project!
Overview
Features
Designed for ceramic, stone, carpet and vinyl tiles.
Quick installation.
Water-proof.
100% ground protection to ensure electrical safety.
Low build height.
Works as anti-fracture membrane.
Single connection lead facilitates installation.
Suitable for use in wet areas.
EMF Safe (electro-magnetic field).
Self-adhesive tape for attaching to floor.
10 years of transferable warranty!
Specifications
Power supply options: 120V and 240V
Max Power Load: 12W/ sq. ft.
Diameter: < 1/8"-1/6"
Withstands temperatures -22°F to +175°F.
Twin conductor, EMF cancelling electric floor heating cable.
3M Dyneon™ FEP inner insulation + AL/PET wrap + additional PVC outer insulation.
100% protective ground screen.
Single 10 ft connection lead.
Complies with UL standards and the NEC.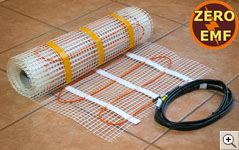 back to the top ^^